Epsom – White Hills
The Bendigo Creek Trail is a key bike route through White Hills and Epsom. It runs parallel with the Midland Highway. It's a picturesque, traffic-free direct route from Epsom Primary School (Howard Street) right into the city centre (Rosalind Park).
Alternatively, join the Back Creek Trail south of the Bendigo Tennis Centre, and you can pedal all the way to Spring Gully.
Get there by bike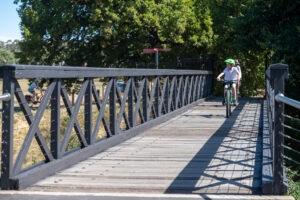 There's a reason they call a bike the freedom machine. For kids it's a way to get places under their own steam – or to let off steam… For adults, riding a bike is a way to lose yourself in the moment – and feel great afterwards.
It's cheaper than running a car, reduces emissions and you have no parking problems. Not only that, it gets the oxygen pumping around your system. You're focused and ready for the day when you arrive – without needing two coffees to jump start your brain!
Getting into the city centre
Epsom is around 7 km from the centre of Bendigo – that's less than 30 minutes by bike. If you live in White Hills, it's even closer. The Bendigo Creek Trail is one of the most peaceful and lovely ways to travel: leave the asphalt jungle to the cars and trucks. Enjoy the greenery and birdsong as you pedal right into the heart of the the city centre through Rosalind Park.
If you are comfortable riding on busier roads, an alternative is the bike lane along Midland Highway/Napier Street, which has a slightly wider buffer between Howard Street and Weeroona Avenue.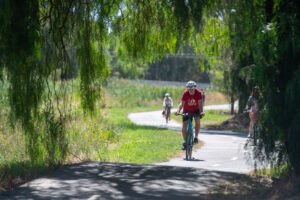 Be alert
You'll have to cross some busy roads on your way into town. Take care when you are:
riding along Howard Street in Epsom. Unfortunately there is no good alternative. You may wish to walk along the footpath for a short distance if you're not comfortable riding
crossing Bridge Street as you enter the Chinese Museum precinct near the city centre. Watch carefully for inbound traffic coming around the bend on Bridge Street. Wait in the centre median if necessary before crossing the outbound lane.
Crossing the highway
The Midland Highway runs right through the middle of White Hills and Epsom. If you need to cross the highway, choose your route to make use of pedestrian crossings at traffic lights, or the pedestrian crossing at the White Hills shops.
Exploring your neighbourhood
Residential streets carry much less traffic than main roads. Getting to know these secret routes to the places you want to go will let you see your neighbourhood in a whole new light. On a bicycle you can take shortcuts that just aren't possible in your car. Pedalling to the playground, creche, school, work or the supermarket can be a pleasant journey.
Take a look at a printed map or Google maps and see which streets will take you where you want to go. Then do a test ride. You might be surprised what you find.
Back Creek Trail – Ascot
The lovely Back Creek Trail is a great neighbourhood path running north-south through Ascot from Galloway Street to Howard Street. It's a pleasant, easy ride, whether you're popping down to the playground with the kids, riding to the train station, childcare or the shops, or just getting on the bike for fun.
Recreation
Botanic Gardens
Bendigo's beautiful Botanic Gardens precinct is right next to the Bendigo Creek Trail (between Scott and Plumridge Streets). Take the pedestrian bridge over the creek and head into the original gardens or the newer Garden for the Future, Larnigaringilang and Omari – the café.
Lake Weeroona and Bendigo Tennis Centre
Continue south alongh the Bendigo Creek Trail to the popular picnic and recreation spot, Lake Weeroona, or the Bendigo Tennis Centre and cafes/icecream on Nolan Street.
Wellsford Forest
Up for some gravel riding? The Wellsford Forest has oodles of gravel tracks that are made for exploring on a bike (no problems if you don't have a mountainbike: a hybrid or gravel bike will manage most just fine). Access the Forest from Fairway Drive near the Bendigo Golf Course in Ascot.
Enjoy your coffee
Bicycles and coffee are made for each other, and you certainly don't need to don Lycra to combine them.
Cafes and eateries that are easy to ride to in this neighbourhood include: Vibe Street Eats, Napier Street (across the road from the Botanic Gardens), Omari (in the Botanic Gardens), White Hills Takeaway, The Botanical Hotel, Epsom Village, The Boardwalk or the Coffee Man at Lake Weeroona, Micks Fish & Chips. Favourite Flavours Icecream and The Bendigo Tennis Centre cafe across the Road on Nolan Street.
Commuting
Pedalling to childcare and kinder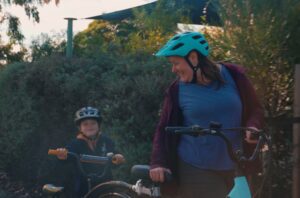 Fit a baby seat securely or hook a trailer to your bike and your small person can enjoy the ride to day care. Choose a quiet route away from the main roads. Remember you can legally ride on the footpath with a child under 13 even when you're carrying them on your own bike.
Learn more about carrying children by bike in our Practicalities of going by bike video.
Jenny's Early Learning Centre on Ironstone Road is easily accessible from Ascot's Back Creek trail – when you're with children, you can ride on the footpath for the short section along Ironstone Road from the path or from Triplett Ave.
Take the footpath for the last section to Great Beginnings on Howard Street.
Shine Bright Kinder and the Maternal and Child Health Centre are on Myrtle Road, south of Howard Street.
Riding to school
Riding to school helps kids build independence and resilience. Physically active kids are awake and alert when they get to school and have better concentration.
Help your kids map out a safe route to school that avoids busy roads and uses supervised crossings or traffic lights to cross the highway. Remember – if they're under 13, they can legally ride on the footpath (watch our Where to Ride video for more). Ride it with them on a weekend or hop on your own bike and ride with them to school. That way you get the benefit of a morning ride as well.
Schools in White Hills and Epsom are next to or close to the Bendigo Creek Trail, which is a picturesque and traffic-free way to ride if you live within easy access of the trail.
Epsom Primary School is right at the northern end of the Bendigo Creek Trail. Students coming from the west can access the trail via Morris Lane or Taylor Street, but take care crossing Goynes Road. An alternative is to take the footpath on the west side of Goynes Road and cross with the crossing supervisor near Howard Street.
Unfortunately, there's no alternative to Howard Street for people living east of the highway. The footpath along Howard Street is the best bet for students aged under 13 years.
White Hills Primary School and Weeroona College Bendigo are both accessible via the Bendigo Creek Trail from the north and south. If you live on the west side of the creek, you can get to the trail via residential streets or along the off-road path next to Holdsworth Road (from the roundabout).
Holy Rosary is on the Midland Highway, but accessible from the Bendigo Creek Trail via the Botanic Gardens or Scott Street (where children younger than 13 years can take the footpath). Cross the highway at the pedestrian lights at Scott Street and continue along the footpath into Napoleon Crescent where there's a supervised school crossing.
Be alert: Schools are busy places at the start and finish of the school day and they're often on busy roads. Ride on the footpath if you're legally allowed to. Otherwise, sometimes it's safer to hop off and walk the final part of your journey to school.
Riding on the footpath
Sometimes it's just not safe to ride on the road with kids. That's why Victorian road rules allow some people to ride bicycles on the footpath:
children under 13
children or adults over 13 riding with a child under 13
adults with a child in a baby seat or on a tag-along
people with a disability that makes it hard for them to ride on the road.
(You'll need to carry a medical certificate that explains this.)
Be alert: While riding on the footpath gets you off the road, you still need to keep your wits about you.
Keep to the left as much as you can.
Watch and listen for cars backing out of driveways or people stepping out of shops.
Give way to pedestrians.
Watch for pedestrians who might not know you're there and give them plenty of warning by calling or ringing your bell.
Going shopping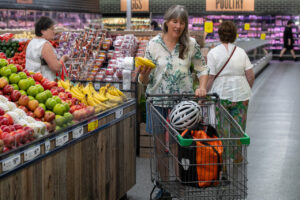 If you just need a few things, hop on your bike to head to the supermarket, or pick up some bread and milk on your way home from work.
Epsom Village is easier to get to by bike if you're coming from the north on the Station Street side. Although Station Street and Myrtle Street can be busy during peak times, but otherwise are quite good to ride on. You can take a detour down quiet streets via Tobin Crescent.
From everywhere else, it's difficult to avoid travelling along the busy section of Howard Street. Walking your bike on the footpath for 300m or so is a good option to avoid the traffic here.
In White Hills, the local shopping strip is just a short distance from the Bendigo Creek path, via Plumridge or Bosquet Streets. These are residential streets and quiet, except around school times. The Napier Street bike lane has a wider painted boundary and there is a pedestrian crossing midway along the shopping strip.
Of course, how you carry your purchases home is something you need to think about in advance. A backpack will transport your milk and bread. Add a basket or panniers on a rear rack and you can carry the same as a green bag's worth of groceries. If you really want to gear up, a bike trailer can carry a week's worth of groceries. Watch our Practicalities of going by bike video for more.
Be alert: Take care riding through shopping centre car parks and alongside parallel parked cars. Look out for cars reversing out of parking spots and be sure drivers have seen you by making eye contact with them.
Getting to work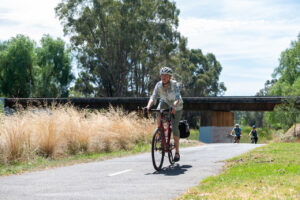 Bendigo is actually a pretty compact town. Epsom is around 7km from the centre of Bendigo – that's less than 30 minutes by bike. If that's your destination, riding to work is a real option. Save money on fuel and gym memberships. If you live in White Hills, it's even closer.
Alternatively, pedal to Epsom Station and catch the train to work.
You don't have to ride hard enough to build up a sweat. Cruise to work and set yourself up mentally for the day before you get there.
Be alert: Take care riding through railway station car parks. Look out for buses, and cars reversing out of parking spots. Be sure drivers have seen you by making eye contact with them.