Eaglehawk – Long Gully – North Bendigo
This part of Bendigo is perfect for getting around on a bike. There's so much within such short distances and on a bike you can take routes impossible in a car. So leave the main roads for the traffic and take the quieter routes. You'll see your neighbourhood in a whole new light.
Get there by bike
There's a reason they call a bike the freedom machine. For kids it's a way to get places under their own steam – or to let off steam… For adults, riding a bike is a way to lose yourself in the moment – and feel great afterwards.
It's cheaper than running a car, reduces emissions and you have no parking problems. Not only that, it gets the oxygen pumping around your system. You're focused and ready for the day when you arrive – without needing two coffees to jump start your brain!

Check out our Guide to riding on roads and our video series for advice and practical tips about going by bike.
Into the CBD
Eaglehawk is less than 10 km from the centre of Bendigo – that's about 30 minutes by bike. If you live in Long Gully or North Bendigo, it's even closer. A number of streets run parallel to Sandhurst Road/Holmes Road/Arnold Street and Eaglehawk Road. Leave the main roads to the cars, hop on your bike and take one of the quiet routes into town. You can get right into the heart of the the city centre pedalling through Rosalind Park.
Across town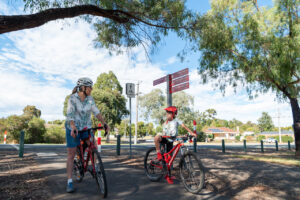 If you need to travel east-west rather than into the city centre, the Long Gully trail takes you across town on a sealed off-road path. It joins the Bendigo Creek Trail at Lake Weeroona. You can also get to the Bendigo Creek Trail (south) at Golden Square – with a short on-road trip down Inglewood Street and Specimen Hill Road (or Maple Street if you prefer a quieter option).
Be alert
You'll have to cross some busy roads on your way into town. Take care when you are:
crossing Eaglehawk Road in Long Gully.
The pedestrian refuge where the Long Gully Trail crosses Eaglehawk Road near the BP service station is the best place to cross.
crossing Holdsworth Road at Wood Street in Long Gully.
There are no lights here, so take a good look before crossing.
passing the IGA supermarket and industrial area on Wood Street in Long Gully.
This can get pretty busy with cars entering and exiting driveways.
crossing Barnard Street.
Make use of pedestrian refuges on central islands, or the pedestrian lights near the Bendigo Croquet Club.
More places to go by bike
Sports
Think of just about any activity and this part of Bendigo has you covered – all easy to get to by bike.
Team sports include: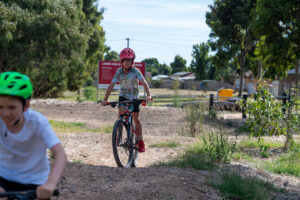 For unstructured fun, check out the Long Gully BMX track, the Eaglehawk BMX race track or the jumps track at the California Gully oval. Skateboard or scooter rider? Head over to the McKern skate park in Canterbury park.
Swimming or gym? Head to the Peter Krenz Leisure Centre in Canterbury park. Or just let the kids run around and get wet at the Long Gully Splash Park.
Mountain biking or gravel riding
If you prefer an adventure on your bike, head out along the Mulga Bill Track to Lightning Hill, which is the gateway to the Whipstick forest with miles of tracks to explore.
Play spaces
There are play spaces scattered all over the region including  the Eaglehawk play space beside Lake Neangar. Start the fun from your front gate by riding there with the kids.
Books and films
Eaglehawk has its own library branch in the heritage listed Eaglehawk Mechanics Institute Hall. It's open three days each week. There's bike parking just outside.
Right next door is the Star Cinema in the Eaglehawk Town Hall. Here you can book a couch for an independent, arthouse, foreign or classic film experience available nowhere else in Bendigo.
Coffee
What's a bike ride without coffee (or tea or chocolate!) and cake?
The Eaglehawk Bakery on High Street is a local institution. Bread, cakes, pies, hot drinks – and Mulga Bill's bicycle. Bike parking out the front, lots of seating for hungry cyclists inside.
Darcy's Bakery on High Street has a secret courtyard down a little walkway beside the shop, where you can enjoy their tasty offerings.
Skip's Skateboard Shop on Sailors Gully Road is as well known for his coffee and donuts as his skateboards. Bike parking out the front. Warm welcome for everyone inside.
Shopping

Just need some bread, milk and bananas? Take the bike to one of three supermarkets in this area.
Eaglehawk has the IGA in Victoria Street and Aldi on Sailors Gully Road, as well as two bakeries, a butcher, post office and two pharmacies.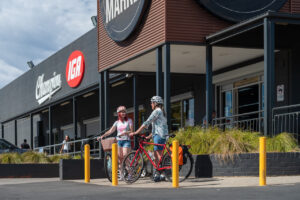 In Long Gully you'll find another IGA in Wood Street. You can park right near the front door, even when it's busy. Just take care riding through the car park to make sure drivers have seen you.
Of course, how you carry your purchases home is something you need to think about in advance. A backpack will transport your small purchases. Add a basket or panniers on a rear rack and you can carry the same as a green bag's worth of groceries. If you really want to gear up, a bike trailer can carry a week's worth of groceries.
Take a look at our Practicalities of going by bike video to see how other Bendigo people carry stuff on their bikes.
Going to school
Getting some exercise on the way to school is a great way for kids to start their day. It also helps them develop a sense of independence. This region has seven primary schools, as well as Kaliana School and Eaglehawk Secondary College, and there are quiet, back street or off-road bike path routes to ride to them all.
Start with a map to help your kids plan the best route to ride to school. Choose quiet streets and bike paths even if it's not the most direct route. Work out the safest places for them to cross busy roads. Mapping the route around supervised crossings and pedestrian lights will help.
Pick a weekend to ride the route with your kids, so you're all familiar with it and you all know how long it takes. Remember, if your kids are under 13 they (and you if you're riding with them) can legally ride on the footpath.
Riding on the footpath
Sometimes you just don't want to ride on the road with kids. That's why Victorian road rules allow some people to ride bicycles on the footpath:
children under 13
children or adults over 13 riding with a child under 13
adults with a child in a baby seat or on a tag-along
people with a disability that makes it hard for them to ride on the road.
(You'll need to carry a medical certificate that explains this.)
Be alert
While riding on the footpath gets you off the road, you still need to keep your wits about you.
Keep to the left as much as you can.
Watch and listen for cars backing out of driveways or people stepping out of shops.
Give way to pedestrians.
Watch for pedestrians who might not know you're there and give them plenty of warning by calling or ringing your bell.